Texas Ghost Town
MORRIS RANCH, TEXAS
Gillespie County, Hill Country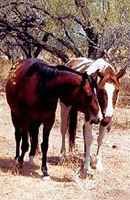 Citizens of Morris Ranch today TE Photo
An easy drive from Austin and San Antonio, a visit to Morris Ranch is about as comfortable a ghost town tour as you're going to get.
Only 12 miles from Fredericksburg, a trip to Morris Ranch can be extended to include a visit to Harper with a quick return to Fredericksburg.
Morris Ranch is included in T. Lindsay Baker's Ghost Towns of Texas. The Ranch is very much as it appeared in 1984 when the author's photos were taken. The only difference seems to be the recent death of several trees, perhaps due to the drought.
How Morris Ranch became a ghost town is rather simple. Francis Morris bought the 23,000 as a place to raise horses, although not much was done during his lifetime. His son oversaw the ranch during its ascent into a community that could nearly provide for all its needs. No economic factors influenced the town's demise, but rather the laws in several states that cut back on legalized horseracing.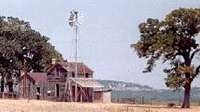 On the way to Morris Ranch
Photo by John Troesser, 2000
The Ranch Headquarters building
Photo by John Troesser, 2000
The "Ranch" today extends around the intersection of Morris-Tivydale Road and an offshoot of Hwy 16. The easiest way to get there is to take Hwy 16 out of Fredericksburg (South) and at 2 miles start looking for the traffic light at FM 2093. Turn right and go for about 7 miles until you come to Morris-Tivydale Road. Turn left and continue for about 1.5 miles. A handsome small stone building sits to your left, beyond a tall wire fence and beyond that is the former two story "Jockey House."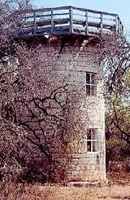 Silo
Photo by John Troesser, 2000
Continue on and at the next intersection you'll come to a handsome two-story house that looks like it's been used recently. Across the road is a silo with an observation deck and some horses that may be descended from the racing stock of the Morris Ranch. To the right of the large house is a small store overgrown with vegetation.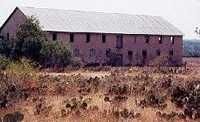 The barn for stallions
Photo by John Troesser, 2000
The 1893 schoolhouse
Photo by John Troesser, 2000
Head west from this intersection and you'll see a large stables that once housed the ranch's breeding stock. Across the street is the former manager's house and behind a fence (also on the north side of the road) is the beautiful former schoolhouse, built in 1893.
Morris Ranch reached its zenith in the 1880s. The laws that broke its back were passed in the early 1890s during an economic depression. The ranch left the Morris family's hands in 1902, although the community was strong enough to keep a post office until 1954.
© John Troesser
Readers' Forum:
Subject: Morris Ranch & other places
My wife love going to old places......About 2 weeks ago we went to the Austin, San Marcos area (Hill Country). We found Morris Ranch, no problem with the excellent directions on your website....we were kind of disappointed that it was all fenced off......the silo was close enough to the fence to get some good pictures the large barn was just like on the website but a No Tresspassing sign kept us from getting closer.......the schoolhouse was incredible but a big gate was in the way I would have love to look inside.......We went on to San Marcos, there we found an old hospital that had at one time been converted into a college fraternity house, but now is abandonded with a somewhat spooky history of a fraternity ritual that had gone wrong ,maybe true maybe not...( I read about it in a book called Weird Texas, check it out sometime its a cool book)........Also we found an abandonded saw mill outside of Luling it was great, I think it was called Zelder Mill it was along side the River you can walk right up to it, of course you wouldn't have wanted to go inside, the historical marker said it had been abandonded since 1960......As usual I cant say enough good about your website...who knows where we will go next.......... Thanks. - Rodney Stegall, November 08, 2005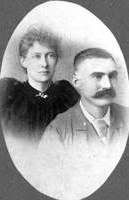 L- "My father's father's father, Gilbert Morris, and his wife, Bertha Brockman Morris."
R- Gilbert Morris
Photos courtesy Ted Morris
The Morris Family
"Here are two photos of my ancestors who are connected to Morris Ranch. I don't believe they are the founders, but they're close. The pictures are of my father's father's father, Gilbert Morris, and his wife, Bertha Brockman Morris. Her ancestors settled the German-American region around Fredericksburg, TX. The proximity of that community to Morris Ranch is how she came to meet my great-grandfather, who was associated with the operations of Morris Ranch, as a partner/heir, until his untimely death at an early age in the early 1900s.
Bertha came from the Saxony region of present-day Germany.
My father's father,
Gilbert Elliott Morris
, was born around 1900. My grandfather grew up in the Fredericksburg/Morris Ranch region, and he tells some amazing stories in his memoirs.... Stories include a place called the Buckhorn Saloon, which had 9-inch-circumference rattlesnake skins on the wall up to the 1950s; the days of Texas independence and how the federal government relied on the frontiersmen to hold the line; Indian skirmishes; the days of the Pony Express, of which my ancestors played a role because of their intricate knowledge of the terrain and horse-riding; and more." - Ted Morris, June 09, 2003
Link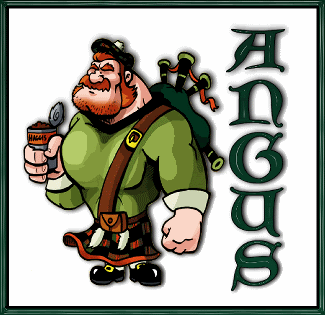 Angus Macinnes
Up All Nite!
There are many places where compromise is expected;
LOYALITY is not amongst them.